The ClickAlgo Risk and Reward Tool
Risk and reward is a cornerstone part of trading
ClickAlgo's unique tool automates everything saving you time
Save 15% on your purchase when you open a new VARIANSE account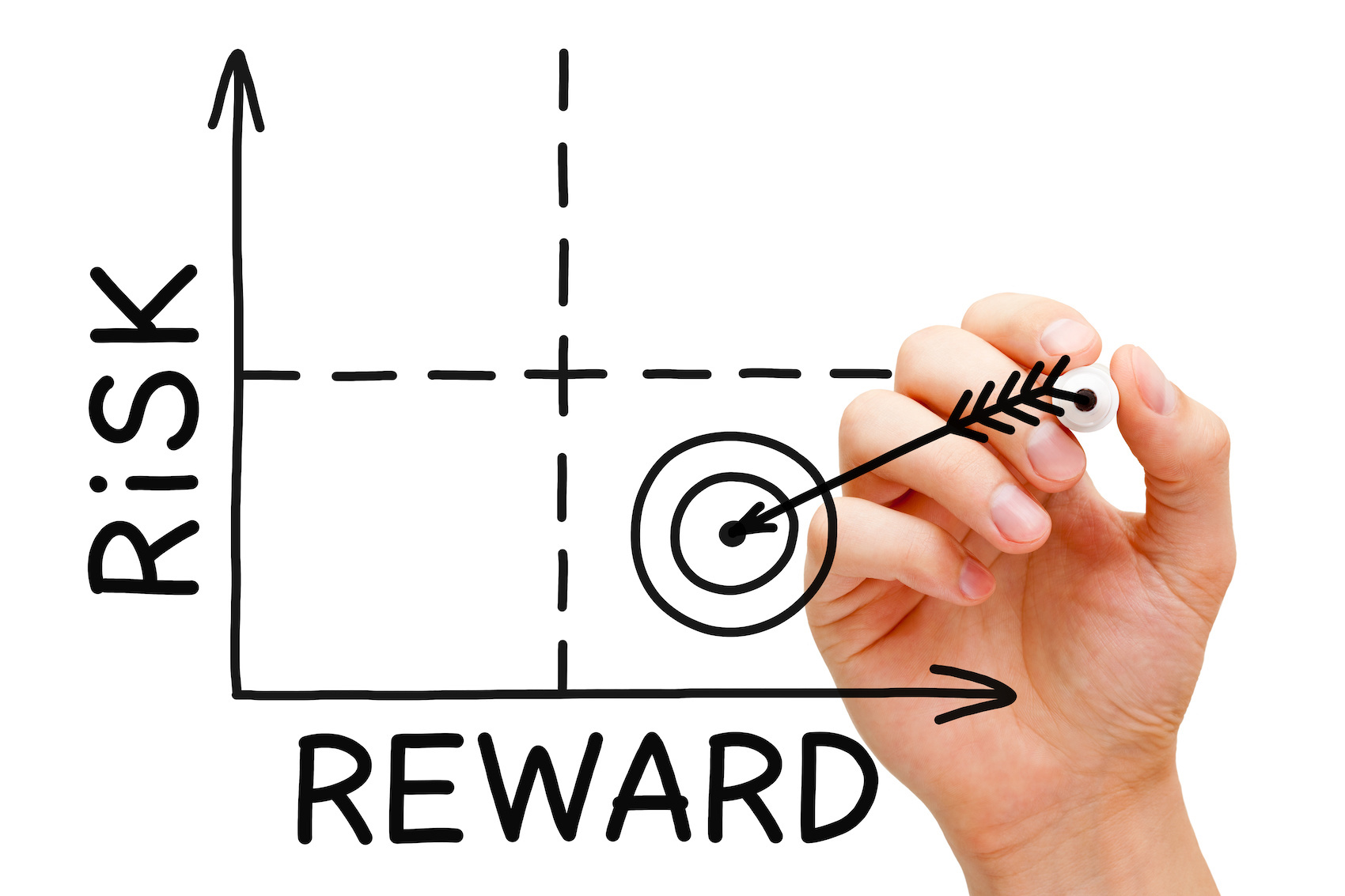 The Risk and Reward Tool
Every once and awhile you come across an indicator or feature on a certain trading platform that is so good you end up making the switch. The ClickAlgo Risk Reward Charting Tool is just such a product. Sizing up risk and reward is intrinsic to forex and just about any other trading activity. And guess what, nothing does it better than this tool for cTrader. After using this tool for one month, I have to admit, not only am I absolutely addicted, but I definitely nabbed some extra pips that I would have otherwise missed along the way.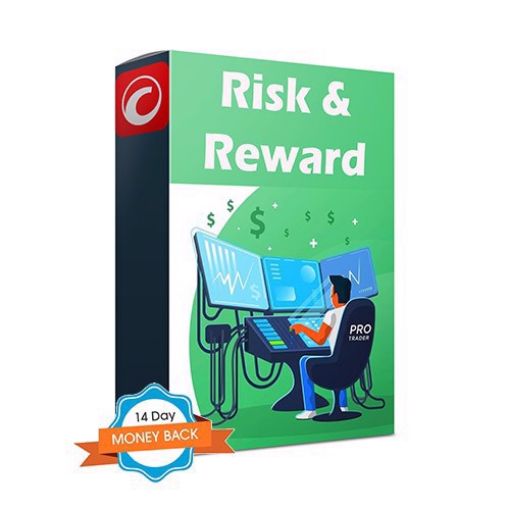 Unbeatable Price
At a cut throat price of £24.99, this tool not only pays massive dividends, it also adds to the already compelling case to adopt cTrader. Plus, if you sign up for a new live VARIANSE cTrader account you can enjoy an extra 25% of the price. Whether you are just starting out on your trading career or are a seasoned trader, the ClickAlgo Risk and Reward Tool is a must have.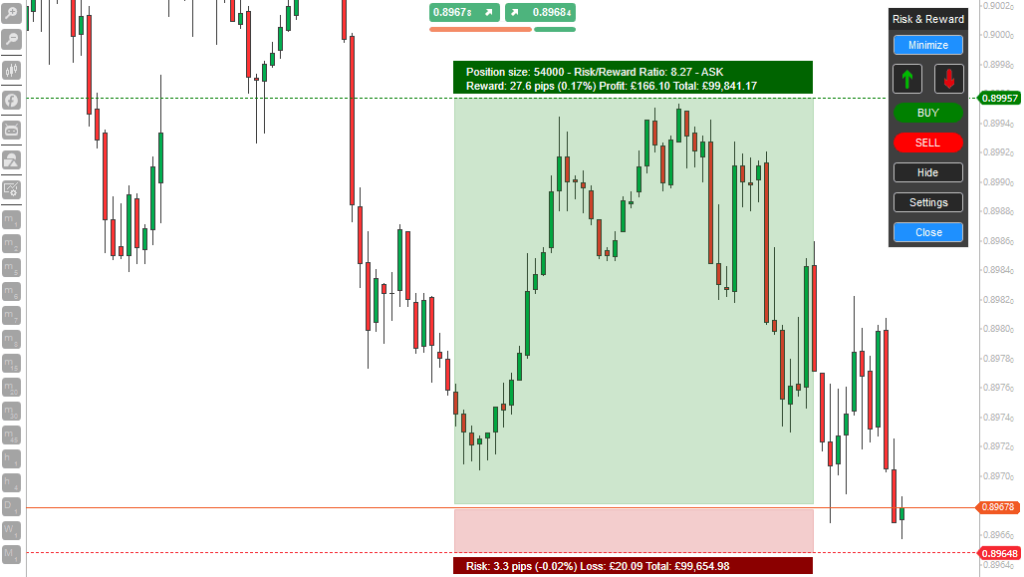 A Much Needed Solution
As I've stated so many times in the past, managing risk and sizing up potential reward are one of the few aspects to trading where traders are actually in full control. Traders can't control where prices go or what happens in terms of news flow. Like it or not, as a trader you aren't going to win on every trade. That's why poor risk management is one of the major reasons traders lose money. A good trader measures out the appropriate risk-reward ratio on every trade. An excellent trader consistently limits how much risk relative to their available capital. Click Algo's tool takes the hard work out of doing both.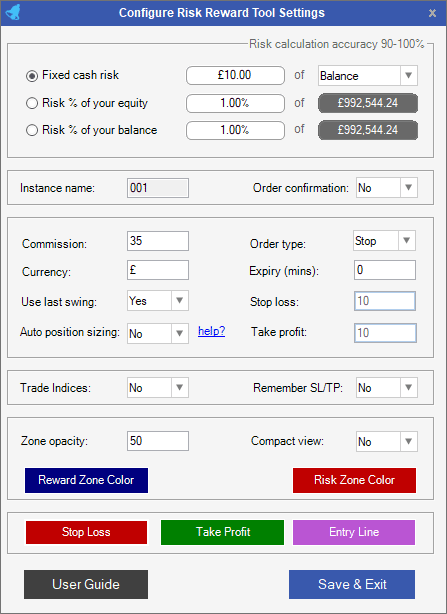 You Are in Control
The ClickAlgo Risk and Reward tool's defining feature is the ability to be able to set the amount you want to risk as a % of your account equity value. From there, the tool automatically adjusts the position sizing of your trade automatically right on screen to execute. Trying to fiddle with getting your position size to match up with your risk given your stop loss and take profit, only to find you missed the opportunity becomes a thing of the past. This is helpful trade automation at its very best. Even better, the control panel is embedded on each chart, and can be repositioned in any corner or minimised depending on whatever the trader wants.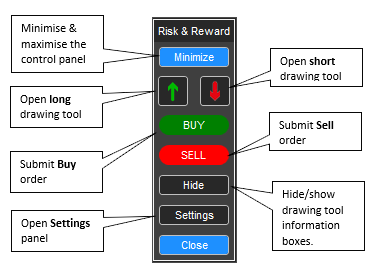 Beyond Just Market Orders
But what really sets this tool apart from me is that it doesn't only apply to market orders. With the ClickAlgo Risk and Reward Charting Tool, traders have the ability to set pending orders. As many other traders, I use pending orders quite a bit so I don't miss any opportunities whilst away from my screens. Honestly, this feature has saved me loads of time in the mornings, allowing me extra time to look for other trading opportunities, research new strategies, or just stay on top of market developments.
Unique to Other Platforms
Furthermore, this tool is unique. Other platforms I've used, like TradingView for example, have long and short position drawing calculators, but they definitely don't provide these extra layers of functionality or the ability to execute. The tool also lets you do a lot of other customisations. For instance, while I am pretty satisfied with setting risk limits at a % of my current account equity, traders can also set a fixed cash risk or as % of their current account balance. A ton of other customisations also exist, including setting colours, opacity, adjusting sizes, using last swing prices for stop losses.
The ClickAlgo Difference
When incorporating a new tool in one's trading, you want to make sure it is built well. I am happy to say ClickAlgo gives you much needed reassurance in that regard. The company is built by pro developers with years of experience. Aside from the full user guide for the tool, there is an updated instructional video and you can join their free telegram community for any additional support. As the #1 algo provider for the cTrader platform, you can also sleep well in the knowledge that your algo and indicators have been programmed, tested and fully documented by some of the best in the industry. In the unlikely event you are dissatisfied, ClickAlgo provides a 14 day money back guarantee.
The Right Tool for the Right Broker
An amazing trading tool, however, goes to waste if you aren't using the right cTrader platform. Make sure when you purchase the ClickAlgo Risk Reward Tool that you pair it with a new VARIANSE cTrader platform live account. Doing so guarantees you more than just a one time 25% off your purchase, it guarantees you the lowest spreads, lowest commissions, from the #1 broker for trade execution. Don't miss this opportunity to automate one of the most important yet tedious aspects of your trading under the best trading conditions. Sign up, purchase, and installation are just a few clicks away.
DISCLAIMER: All communication, messages, media and links distributed on this channel has been prepared by VARIANSE solely for information purposes without regard to any particular user's investment objectives, financial situation, or means. The information in the publication is not an investment recommendation and it is not investment, legal or tax advice or an offer or solicitation to purchase or sell any financial instrument. Reasonable care has been taken to ensure that this publication is not untrue or misleading when published, but VARIANSE does not represent that it is accurate or complete. VARIANSE does not accept any liability for any direct, indirect or consequential loss arising from any use of this publication. Unless otherwise stated, any views forecasts, or estimates are solely those of the author(s), as of the date of the publication and are subject to change without notice. The information provided herein is not intended to constitute and does not constitute investment advice nor is the information intended as an offer or solicitation for the purchase or sales of any financial instrument. The information contained herein has no regard to the specific investment objects, the financial situation or particular needs of any particular recipient. Relevant and specific professional advice should always be obtained before making any investment decision. It is important to note that past performance is not indicative of future results. VARIANSE is a trading name of VDX Derivatives, authorised and regulated by the Financial Services Commission (FSC) of Mauritius. FSC license number C118023323. VARIANSE is also a trading name of VDX Limited and is authorised and regulated by the Financial Conduct Authority (FCA) in the United Kingdom. FCA register number 802012. This publication is not directed to residents of the United States and is not intended for distribution to, or use by, any person in any country or jurisdiction where such distribution or use would be contrary to local law or regulation.
Your global trading connection
We are an award-winning, internationally regulated, trusted and secure broker.
Regulated Globally
VARIANSE is authorised and trusted internationally. We have entities regulated by the FCA, FSC and LFSA.
Multi-Award Winning
VARIANSE has achieved consistent recognition from independent organisations and the financial community.
Premium Customer Support
Take comfort in an experienced team committed to providing you with rapid, efficient, and friendly support.
Tier-1 Banking Relationships
We safeguard your funds safely and securely in segregated ring-fenced client money custodian bank accounts with Barclays Bank.
CFDs are complex instruments and come with a high risk of losing money rapidly due to leverage. 58% of retail investor accounts lose money when trading CFDs. You should consider whether you understand how CFDs work and whether you can afford to take the high risk of losing your money.