The Big Mac Index: purchasing price parity and forex trading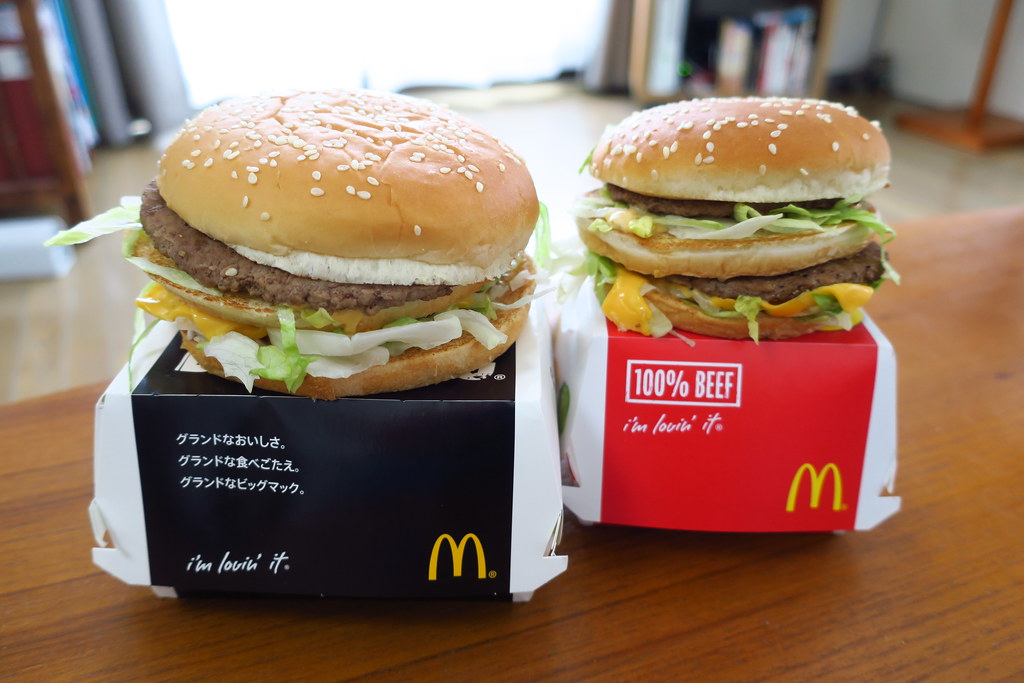 By Carl Paraskevas - Chief Economist
Next time you bite into a Big Mac, think about the Big Mac Index and how it could affect your forex trading.
Rooted in the law of one price and purchasing price parity, which says that goods in one country should equal another after forex adjustment, the Big Mac Index, produced by the Economist Newspaper, compares the prices of the famous Big Mac hamburger around the world to determine whether currency pairs are overvalued or undervalued.
Big Mac Index: % overvaluation/undervaluation vs USD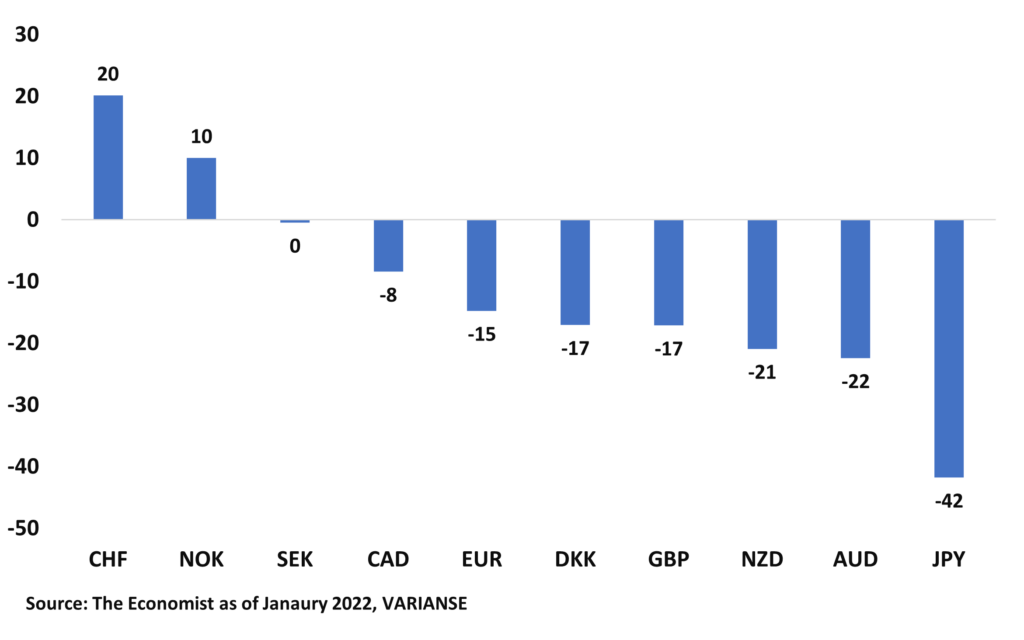 NZD/USD, AUD/USD and JPY/USD are most likely to be undervalued says the latest cut of the Big Mac Index. In fact, on an unadjusted basis, the price of a Big Mac in every country aside from Norway and Switzerland look under-priced versus the United States after adjusting for forex rates. Or, to phrase it differently, every major currency aside from the Norwegian kroner and Swiss Franc look undervalued against the US dollar.
Adjusted Big Mac Index: % overvaluation/undervaluation vs USD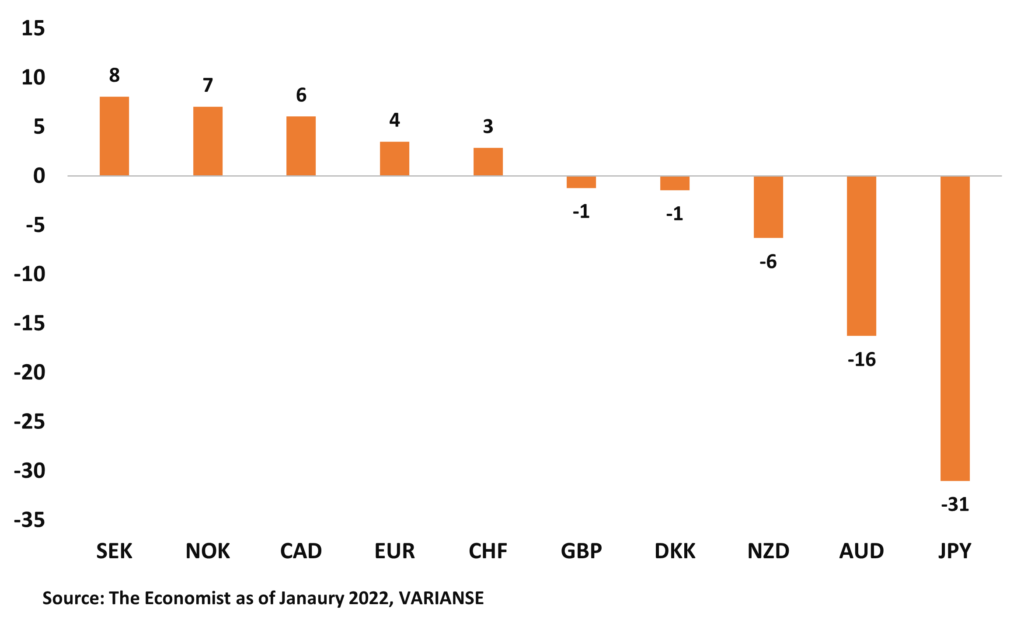 Still, one big argument against using purchasing price parity valuations, amongst others, is that higher or lower income levels in specific countries can leave the price of goods like Big Macs higher or lower without influencing forex rates. To account for that differential, the Big Mac Index adjusts valuation metrics to account for income levels. On that basis, NZD/USD, AUD/USD, and USD/JPY still look significantly undervalued by -6%, -16%, -31%, respectively.
Be warned, however, that the law of one price and purchasing price parity has all kinds of pitfalls, and many argue it never really holds true. So, alone it should never be relied upon. The deficits of purchasing price parity aside, the Big Max Index still one good and easy tool of many to have in your toolkit to get some sense of bias in the forex pairs you trade.
Start Trading and Monetize your Knowledge
DISCLAIMER: All communication, messages, media and links distributed on this channel has been prepared by VARIANSE solely for information purposes without regard to any particular user's investment objectives, financial situation, or means. The information in the publication is not an investment recommendation and it is not investment, legal or tax advice or an offer or solicitation to purchase or sell any financial instrument. Reasonable care has been taken to ensure that this publication is not untrue or misleading when published, but VARIANSE does not represent that it is accurate or complete. VARIANSE does not accept any liability for any direct, indirect or consequential loss arising from any use of this publication. Unless otherwise stated, any views forecasts, or estimates are solely those of the author(s), as of the date of the publication and are subject to change without notice. The information provided herein is not intended to constitute and does not constitute investment advice nor is the information intended as an offer or solicitation for the purchase or sales of any financial instrument. The information contained herein has no regard to the specific investment objects, the financial situation or particular needs of any particular recipient. Relevant and specific professional advice should always be obtained before making any investment decision. It is important to note that past performance is not indicative of future results. VARIANSE is a trading name of VDX Derivatives, authorised and regulated by the Financial Services Commission (FSC) of Mauritius. FSC license number C118023323. VARIANSE is also a trading name of VDX Limited and is authorised and regulated by the Financial Conduct Authority (FCA) in the United Kingdom. FCA register number 802012. This publication is not directed to residents of the United States and is not intended for distribution to, or use by, any person in any country or jurisdiction where such distribution or use would be contrary to local law or regulation.
Your global trading connection
We are an award-winning, internationally regulated, trusted and secure broker.
Regulated Globally
VARIANSE is authorised and trusted internationally. We have entities regulated by the FCA, FSC and LFSA.
Multi-Award Winning
VARIANSE has achieved consistent recognition from independent organisations and the financial community.
Premium Customer Support
Take comfort in an experienced team committed to providing you with rapid, efficient, and friendly support.
Tier-1 Banking Relationships
We safeguard your funds safely and securely in segregated ring-fenced client money custodian bank accounts with Barclays Bank.
CFDs are complex instruments and come with a high risk of losing money rapidly due to leverage. 58% of retail investor accounts lose money when trading CFDs. You should consider whether you understand how CFDs work and whether you can afford to take the high risk of losing your money.