AUD/USD: Moving Closer to the Land Down Under?
AUD/USD has spend four consecutive weeks below 0.70
RBA interest rate hike expectations have cooled since June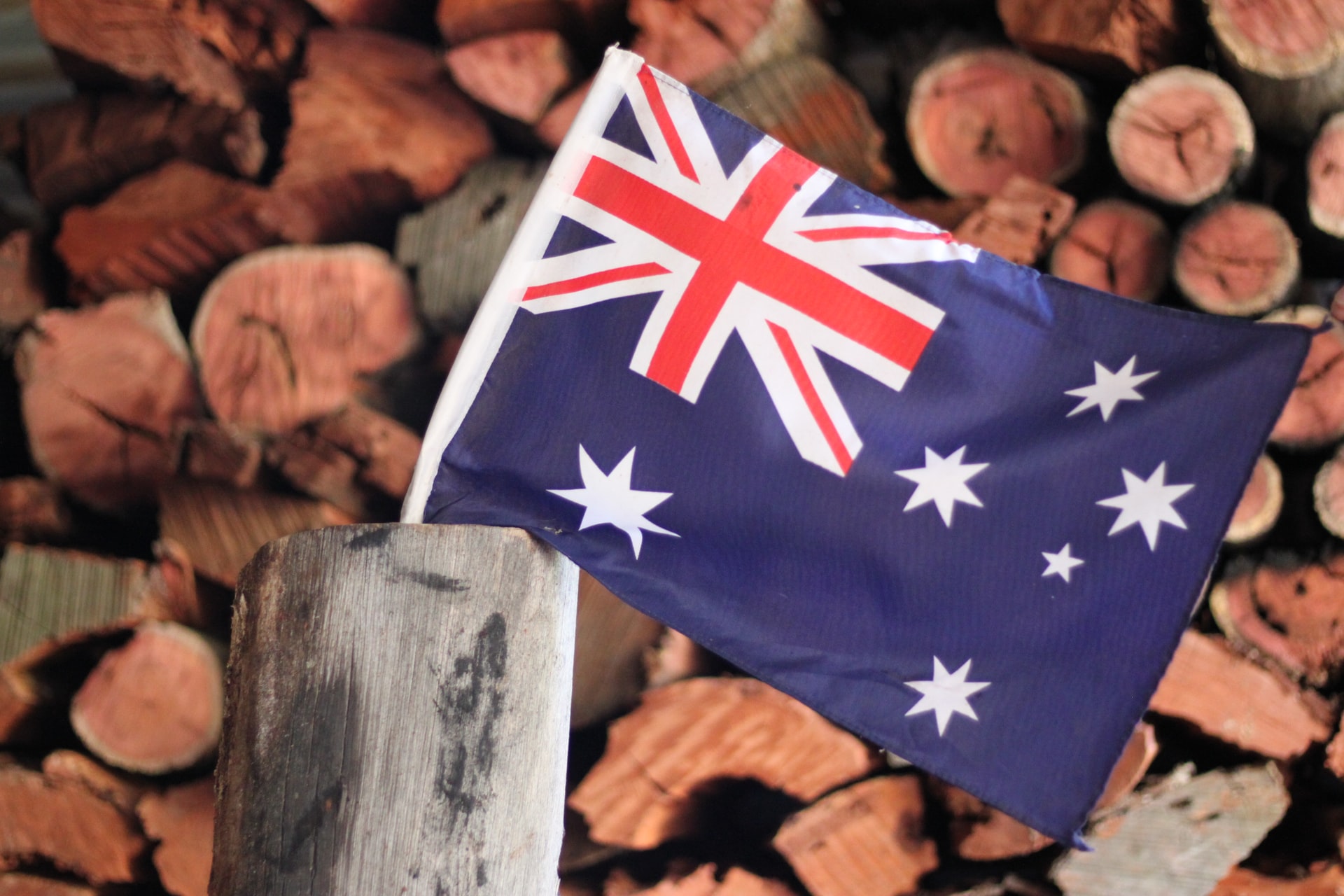 AUD/USD Under Pressure
AUD/USD has spent four consecutive weeks below 0.70, a region of major support, which also marked the bottom of its longer-term structural range. The gradual pairing back in RBA interest rate hike expectations, global recessionary concerns, and the Fed talking tough on interest rates, all seem to be at play here. Potentially, that doesn't bode well for AUD/USD in the near term. In my mind, the only fundamental path for the AUD to really outperform is if global inflation pressures ease; that Fed interest rate hike expectations drop dramatically; and global recession is avoided. The way conditions stand at the moment, that seems an unlikely trinity.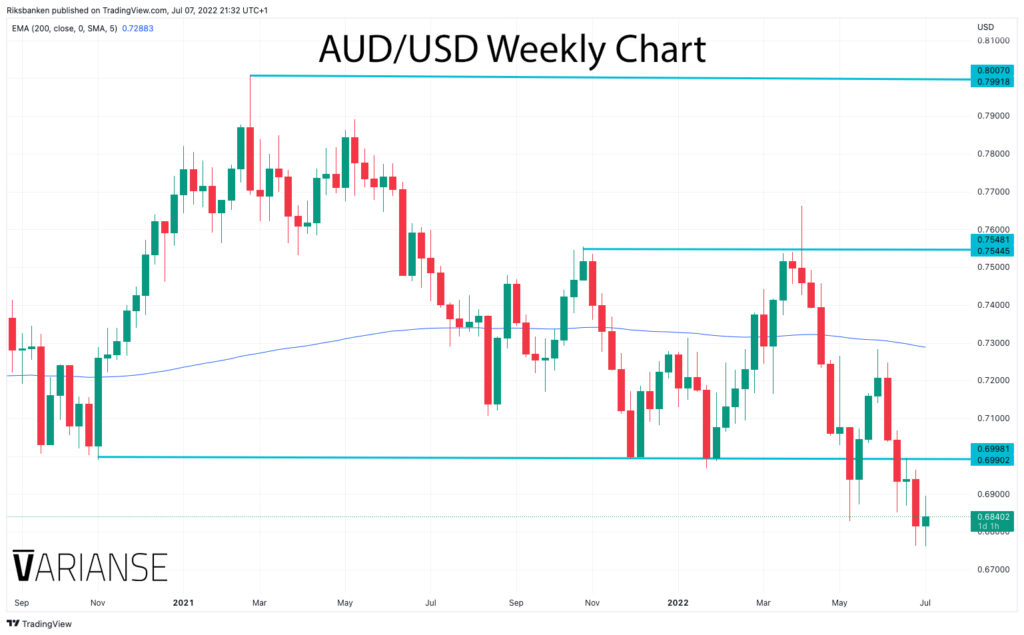 RBA Rate Expectations Fall
Only this June, interest rate markets were pricing the RBA policy rate at 4% by year end. At the time of writing, that figure was c 3.2%, while guidance from the RBA sits at 2.5%. Markets, in my opinion, risk a gradual convergence toward the RBA guidance rather than the other way around. That's not to say the RBA is not serious about fighting inflation, which stood at 5.1% in Q1. Aside from global inflation pressures, Australia's low unemployment rate and strong Q1 GDP number all warrant tighter monetary policy. Hence why the RBA has raised interest three times this year, most recently by 50 bps in July to 1.35%. More is also likely to come by way of a 50 bps hike in August.
Fast Paced Transmission
Instead, markets may be underestimating the relative speed of RBA monetary policy transmission. This is visible in the housing market, which is financed largely by variable rate mortgages, and is already coming under strain for the current interest rate rises. A recent article in the Guardian newspaper, does a very good job highlighting the level of mortgage stress in the Australian economy. PMI data also points to services sector activity slipping in Q2, after a relatively strong start to April. As a result, the RBA guidance may be closer reality than what's currently implied by the market.
Narratives Need to Change
On that basis, the RBA is going to have trouble keeping pace with the Fed's advertised tightening path. That may not be a good outcome for a high yielding currency like AUD/USD. Were the Fed to switch gears after slipping the world into recession, that would likely be equally unfavourable for a growth sensitive currency such as the Australian dollar. In other words, the narrative that suits AUD/USD isn't currently any of those circulating financial markets at the moment.
DISCLAIMER: All communication, messages, media and links distributed on this channel has been prepared by VARIANSE solely for information purposes without regard to any particular user's investment objectives, financial situation, or means. The information in the publication is not an investment recommendation and it is not investment, legal or tax advice or an offer or solicitation to purchase or sell any financial instrument. Reasonable care has been taken to ensure that this publication is not untrue or misleading when published, but VARIANSE does not represent that it is accurate or complete. VARIANSE does not accept any liability for any direct, indirect or consequential loss arising from any use of this publication. Unless otherwise stated, any views forecasts, or estimates are solely those of the author(s), as of the date of the publication and are subject to change without notice. The information provided herein is not intended to constitute and does not constitute investment advice nor is the information intended as an offer or solicitation for the purchase or sales of any financial instrument. The information contained herein has no regard to the specific investment objects, the financial situation or particular needs of any particular recipient. Relevant and specific professional advice should always be obtained before making any investment decision. It is important to note that past performance is not indicative of future results. VARIANSE is a trading name of VDX Derivatives, authorised and regulated by the Financial Services Commission (FSC) of Mauritius. FSC license number C118023323. VARIANSE is also a trading name of VDX Limited and is authorised and regulated by the Financial Conduct Authority (FCA) in the United Kingdom. FCA register number 802012. This publication is not directed to residents of the United States and is not intended for distribution to, or use by, any person in any country or jurisdiction where such distribution or use would be contrary to local law or regulation.
Your global trading connection
We are an award-winning, internationally regulated, trusted and secure broker.
Regulated Globally
VARIANSE is authorised and trusted internationally. We have entities regulated by the FCA, FSC and LFSA.
Multi-Award Winning
VARIANSE has achieved consistent recognition from independent organisations and the financial community.
Premium Customer Support
Take comfort in an experienced team committed to providing you with rapid, efficient, and friendly support.
Tier-1 Banking Relationships
We safeguard your funds safely and securely in segregated ring-fenced client money custodian bank accounts with Barclays Bank.
CFDs are complex instruments and come with a high risk of losing money rapidly due to leverage. 58% of retail investor accounts lose money when trading CFDs. You should consider whether you understand how CFDs work and whether you can afford to take the high risk of losing your money.
ELECTRONIC TRADING. ELEVATED