USD/JPY: Cautious Ahead of the Fed
USD/JPY's ascendance showing potential signs of cooling
Insufficient evidence yet of any dramatic retracement or reversal
135 and 131.50 are key levels to watch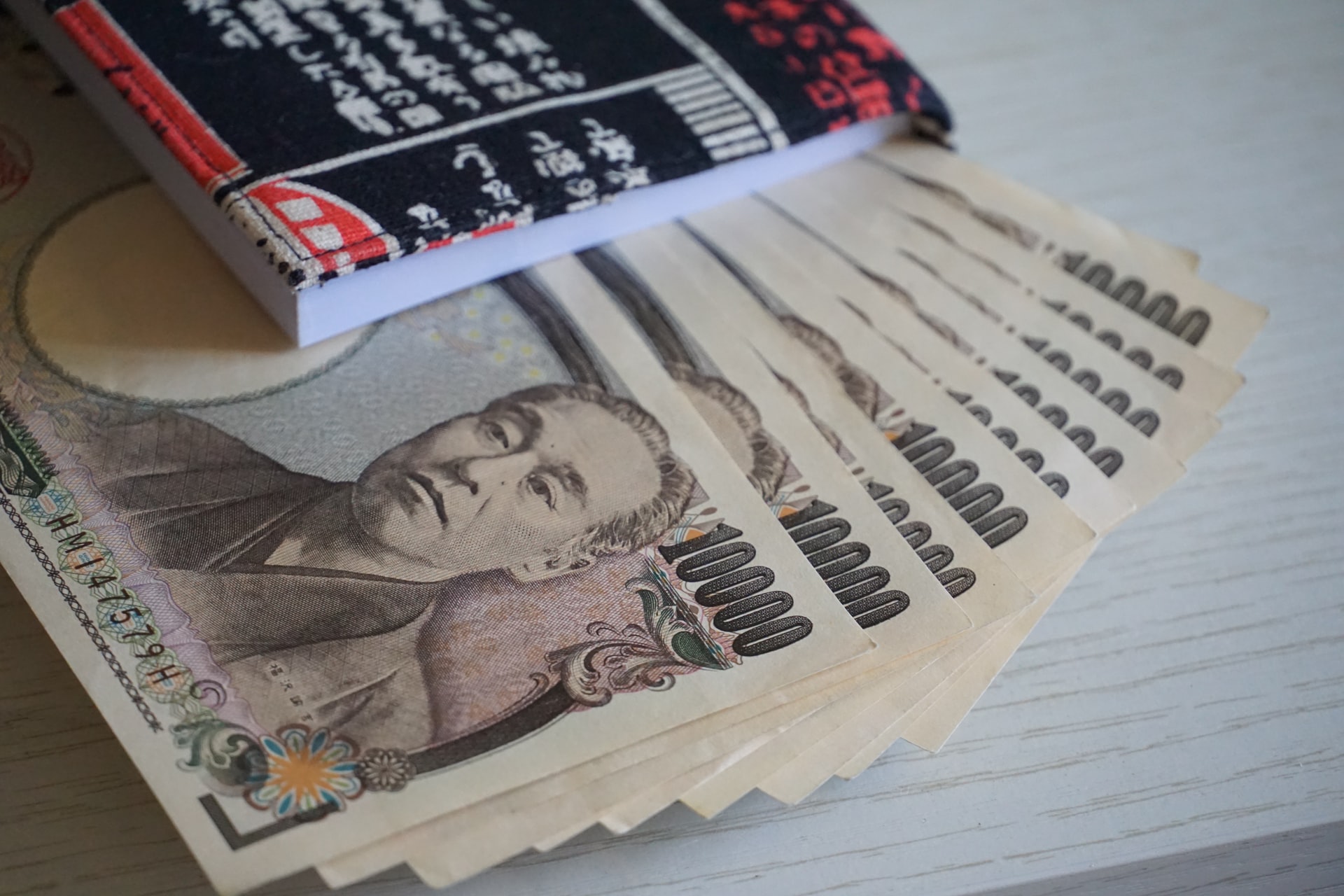 Warning Signs Flashing
USD/JPY has been one of the latest entries into my higher frequency watchlists after price failed to make a substantive new higher low on the 22 July. As a result, I'm more vigilant for possible signs of reversal and see some pretty big risks buying ahead of Wednesday's Fed decision. I'm too worried that either the 21 June 22 high of 136.710 or 29 June 22 high of 137.005, mark the first shoulder in a yet to be formed head and shoulders pattern or set the path toward a double top or triple tip formation. RSI divergence between the 14 June swing high of 135.495 and the subsequent 14 July swing high of 139.394 also adds to my new found caution.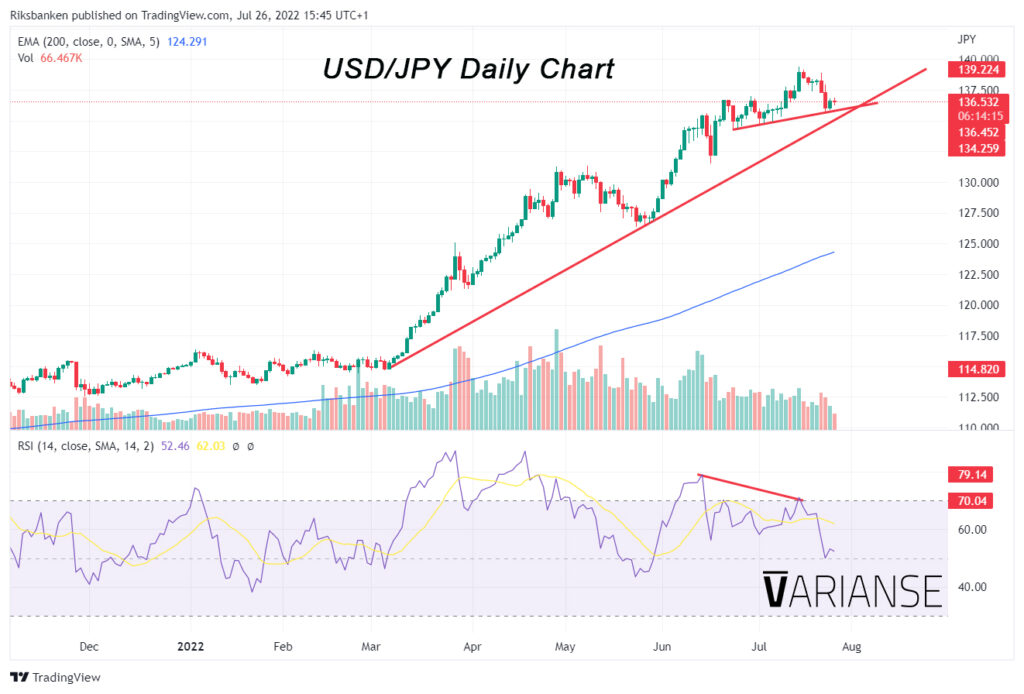 Waiting for a Catalyst
Still, ample evidence to suggest that USD/JPY has reached its peak is lacking. Granted, down by c. 19% against the US dollar year to date, the Japanese yen has been the worst performing currency, but that alone doesn't mean it is ripe for a reversal. Most of the fundamental conditions that have led the pair higher haven't shifted; aggressive Fed tightening vs. ultra loose monetary policy from the BoJ persists, as do high energy prices and fears of global recession. In my opinion, the fundamental catalysts needed to reverse the yen's fortunes, although brooding, have yet to appear.
Key Levels to Be Broken
Likewise, price is still well above its 200-day exponential moving average. This makes me cautious of being too bearish USD/JPY, even if the gap between the current price and the moving average look extreme. Were price to break below 135 underpinned by decent volumes I might become more convinced that USD/JPY's fortunes have taken a shift for the worse. Even more substantive, would be a sustained break below the 131.50 level. At the moment, we are still a long way off from that level.
DISCLAIMER: All communication, messages, media and links distributed on this channel has been prepared by VARIANSE solely for information purposes without regard to any particular user's investment objectives, financial situation, or means. The information in the publication is not an investment recommendation and it is not investment, legal or tax advice or an offer or solicitation to purchase or sell any financial instrument. Reasonable care has been taken to ensure that this publication is not untrue or misleading when published, but VARIANSE does not represent that it is accurate or complete. VARIANSE does not accept any liability for any direct, indirect or consequential loss arising from any use of this publication. Unless otherwise stated, any views forecasts, or estimates are solely those of the author(s), as of the date of the publication and are subject to change without notice. The information provided herein is not intended to constitute and does not constitute investment advice nor is the information intended as an offer or solicitation for the purchase or sales of any financial instrument. The information contained herein has no regard to the specific investment objects, the financial situation or particular needs of any particular recipient. Relevant and specific professional advice should always be obtained before making any investment decision. It is important to note that past performance is not indicative of future results. VARIANSE is a trading name of VDX Derivatives, authorised and regulated by the Financial Services Commission (FSC) of Mauritius. FSC license number C118023323. VARIANSE is also a trading name of VDX Limited and is authorised and regulated by the Financial Conduct Authority (FCA) in the United Kingdom. FCA register number 802012. This publication is not directed to residents of the United States and is not intended for distribution to, or use by, any person in any country or jurisdiction where such distribution or use would be contrary to local law or regulation.
Your global trading connection
We are an award-winning, internationally regulated, trusted and secure broker.
Regulated Globally
VARIANSE is authorised and trusted internationally. We have entities regulated by the FCA, FSC and LFSA.
Multi-Award Winning
VARIANSE has achieved consistent recognition from independent organisations and the financial community.
Premium Customer Support
Take comfort in an experienced team committed to providing you with rapid, efficient, and friendly support.
Tier-1 Banking Relationships
We safeguard your funds safely and securely in segregated ring-fenced client money custodian bank accounts with Barclays Bank.
CFDs are complex instruments and come with a high risk of losing money rapidly due to leverage. 58% of retail investor accounts lose money when trading CFDs. You should consider whether you understand how CFDs work and whether you can afford to take the high risk of losing your money.
ELECTRONIC TRADING. ELEVATED