EUR/SEK: looking for more from the Riksbank
The Riksbank is expected to hike by 50 bps Thursday
EUR/SEK will be led by the detail around forward guidance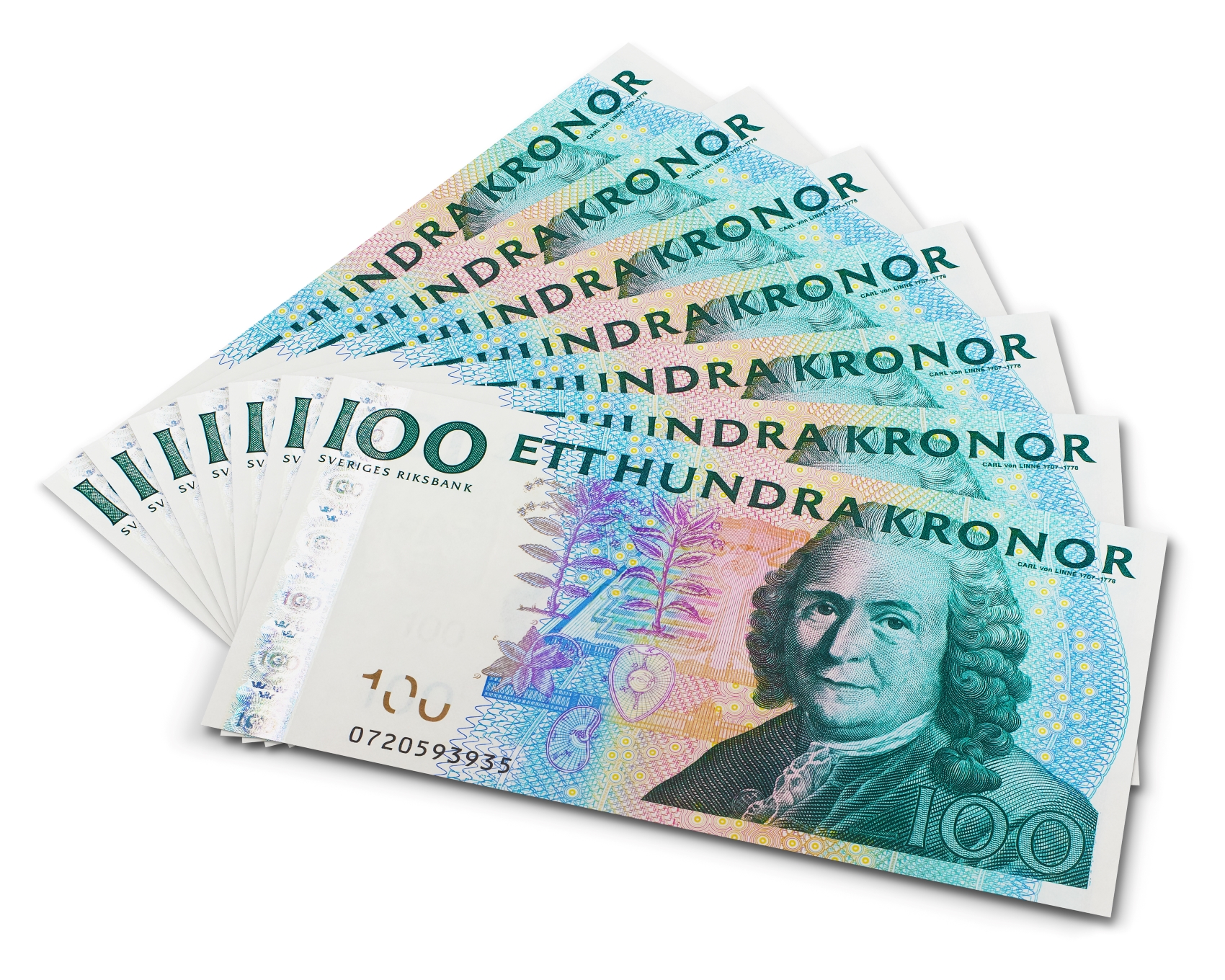 A 50 bps Riksbank hike is expected
What can the Riksbank do to really shake things up for EUR/SEK? It could raise interest rates by less than 50 bps on Thursday, which would likely see EUR/SEK rise dramatically, but that seems unlikely.
All 16 economists recently polled by Reuters expect the Swedish central bank to raise interest rates by 50 bps and interest rate markets are fully pricing in just such a move. After the surprise 25 bps hike in April, the Riksbank is under pressure to do more in order to tame inflation. Sweden's headline inflation rate rose to 7.2% y/y in May - its highest level in three decades. That's well above the Riksbank current inflation forecast of 5.5% and its 2% inflation target.
Given a 50 bps hike is so well expected, traders may be faced with a classic buy the rumor and sell the fact scenario when it comes to EUR/SEK on Thursday, unless the Riksbank does something more.
Seeking guidance
The big question for EUR/SEK is what that more will be? As the Riksbank already signalled in April that it would start tapering asset purchases in the second half of this year, any downward pressure on EUR/SEK from Thursday's decision will come down to the central bank's published interest rate path and forward guidance.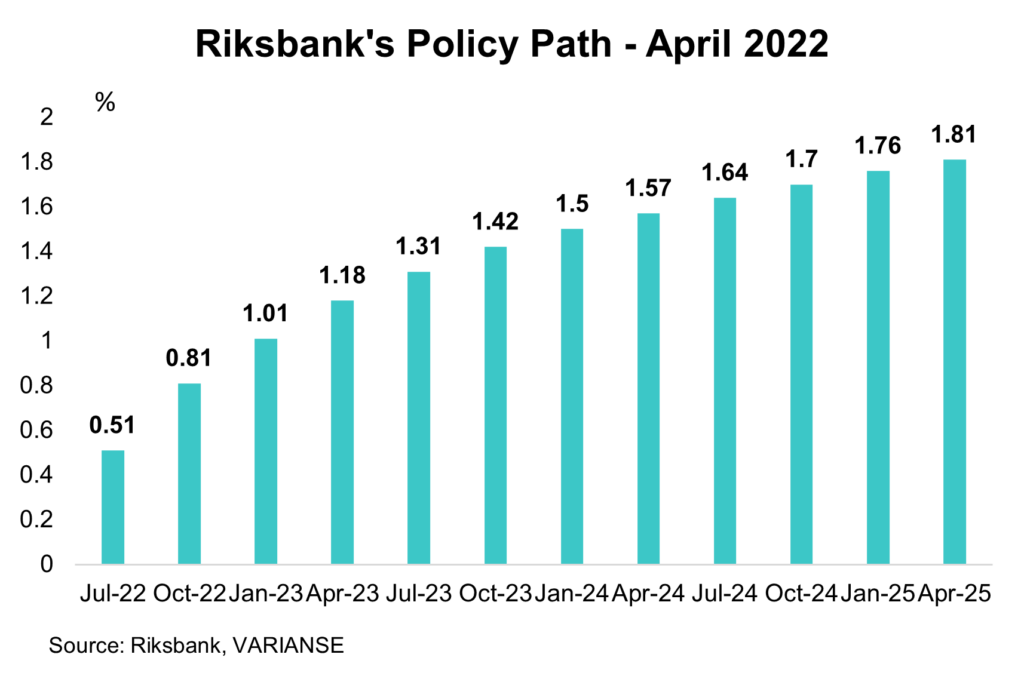 Back in April, the Riksbank indicated a further 75 bps of hikes this year with the key policy rate topping out at 1.0% and at 1.8% in 2025. If the Riksbank talks tough on inflation on Thursday, and solidifies the potential for 50 bps hikes further down the line, that could prove negative for EUR/SEK. A stronger Swedish krona would certainly help the Riksbank cool inflation. That said, there is every risk that the Riksbank decided not to box itself into a corner in terms of interest rate hikes beyond June. If so, that could prove positive for EUR/SEK.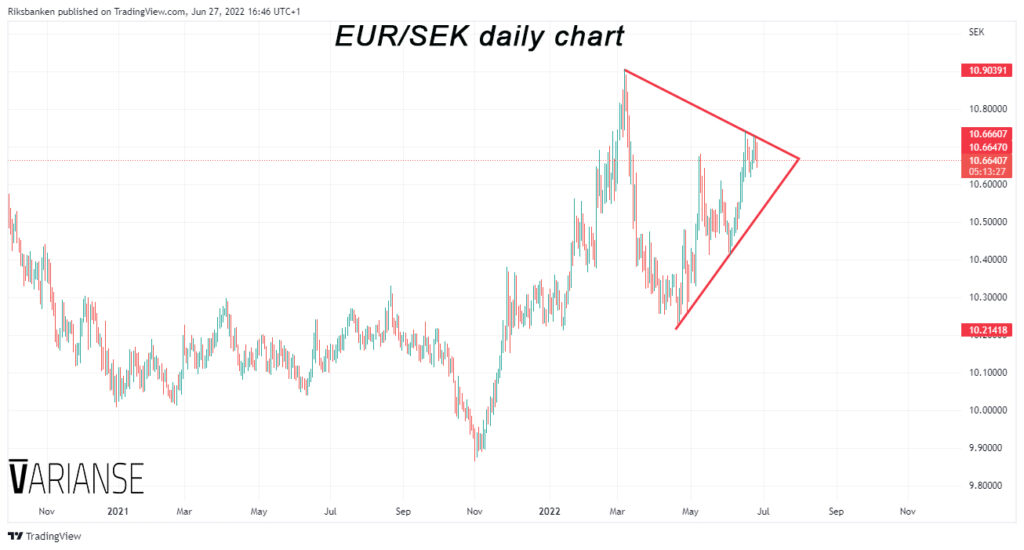 Whatever the Riksbank decides on Thursday, it should prove noteworthy for EUR/SEK. After rising sharply at the start of the year, in part due to geopolitical concerns related to war in Ukraine, the Swedish krona quickly reversed its losses ahead of Apri's surprise Riksbank decision. More recently, it has retraced those gains, in part reflecting an increasingly more hawkish ECB. That price action has created a pretty obvious triangle formation.
DISCLAIMER: All communication, messages, media and links distributed on this channel has been prepared by VARIANSE solely for information purposes without regard to any particular user's investment objectives, financial situation, or means. The information in the publication is not an investment recommendation and it is not investment, legal or tax advice or an offer or solicitation to purchase or sell any financial instrument. Reasonable care has been taken to ensure that this publication is not untrue or misleading when published, but VARIANSE does not represent that it is accurate or complete. VARIANSE does not accept any liability for any direct, indirect or consequential loss arising from any use of this publication. Unless otherwise stated, any views forecasts, or estimates are solely those of the author(s), as of the date of the publication and are subject to change without notice. The information provided herein is not intended to constitute and does not constitute investment advice nor is the information intended as an offer or solicitation for the purchase or sales of any financial instrument. The information contained herein has no regard to the specific investment objects, the financial situation or particular needs of any particular recipient. Relevant and specific professional advice should always be obtained before making any investment decision. It is important to note that past performance is not indicative of future results. VARIANSE is a trading name of VDX Derivatives, authorised and regulated by the Financial Services Commission (FSC) of Mauritius. FSC license number C118023323. VARIANSE is also a trading name of VDX Limited and is authorised and regulated by the Financial Conduct Authority (FCA) in the United Kingdom. FCA register number 802012. This publication is not directed to residents of the United States and is not intended for distribution to, or use by, any person in any country or jurisdiction where such distribution or use would be contrary to local law or regulation.
Your global trading connection
We are an award-winning, internationally regulated, trusted and secure broker.
Regulated Globally
VARIANSE is authorised and trusted internationally. We have entities regulated by the FCA, FSC and LFSA.
Multi-Award Winning
VARIANSE has achieved consistent recognition from independent organisations and the financial community.
Premium Customer Support
Take comfort in an experienced team committed to providing you with rapid, efficient, and friendly support.
Tier-1 Banking Relationships
We safeguard your funds safely and securely in segregated ring-fenced client money custodian bank accounts with Barclays Bank.
CFDs are complex instruments and come with a high risk of losing money rapidly due to leverage. 58% of retail investor accounts lose money when trading CFDs. You should consider whether you understand how CFDs work and whether you can afford to take the high risk of losing your money.
ELECTRONIC TRADING. ELEVATED